This is what I got Friday afternoon:
I showed it to my husband, and he asked, "Did you make it?" Hah. How could I possibly make it??? :) Then, he asked, "What is it???"
To answer his question:
1. It is from Tuesday Morning (a bargain store, that has a lot of stuff for a pretty decent price).
2. It was 50 cents.
3. It is cute. (PERIOD)
-----
This is what I got Sunday afternoon: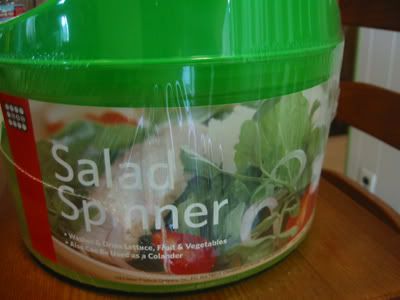 It's a salad spinner!!! (and no, I did not make it.) :) It was only 2.98! I'm very excited to use it. You see, I used to buy those packaged salads that cost an arm and leg, but they didn't stay fresh for very long. Besides, I'm trying to be more economical, so now I am buying lettuce heads. This little invention will help me immensely!
I've been making a ton of salads lately; my husband's on a diet. ;) I'll post a recipe for a killer chicken (ahhh), ranch salad later.