Saturday, February 17, 2007
Saturday, February 10, 2007
I found an amazingly simple fruit dip recipe on allrecipe.com. Can you tell, I love that site? Anyway, all I did was whip together a 7-oz package of cream cheese (room temp) and a jar of marshmallow creme (only 1.99 at Ralph's and it wasn't even on sale!). The result was this rich, tasty fruit dip.
My first experiment was to dip a grape into the creamy creation. He took the plunge, and afterward, it looked like he had a new, cute hairdo. :) So going totally Yuzu, I gave him a face (I just made up a new slang word. The phrase "Going Yuzu" is defined as the act of giving any type of food a smile, in order to make it look cute). :)
Try this recipe with any fruit! YUMMY!!!
Posted by

mushroommeadows
at 11:35 AM
3 comments:

Thursday, February 1, 2007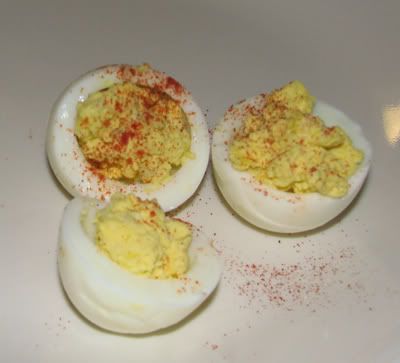 I made some deviled eggs last night, though I prefer to call them "angel-ed" eggs because their taste was quite heavenly. :) This was my first time ever making them, and I was pleasantly surprised by how easy they were to make! Here's the recipe (I found it on allrecipes.com). It's not gourmet...but the ingredients are simple. Also note that the yolk mix in the middle is thicker rather than creamy.
INGREDIENTS
6 hard-cooked eggs
2 tablespoons mayonnaise
1 teaspoon sugar
1 teaspoon white vinegar
1 teaspoon prepared mustard
1/2 teaspoon salt
Paprika
DIRECTIONS
Slice eggs in half lengthwise; remove yolks and set whites aside. In a small bowl, mash yolks with a fork. Add the mayonnaise, sugar, vinegar, mustard and salt; mix well. Stuff or pipe into egg whites. Sprinkle with paprika. Refrigerate until serving.
Tonight, I'm going to attempt to bake bran muffins. :) The unfortunate part is that I have to chill the dough for 3 or more hours! I don't like to wait...:)
Posted by

mushroommeadows
at 10:41 PM
2 comments: