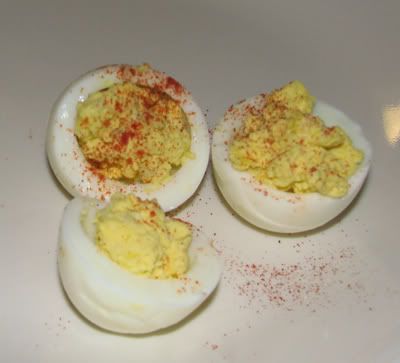 I made some deviled eggs last night, though I prefer to call them "angel-ed" eggs because their taste was quite heavenly. :) This was my first time ever making them, and I was pleasantly surprised by how easy they were to make! Here's the recipe (I found it on allrecipes.com). It's not gourmet...but the ingredients are simple. Also note that the yolk mix in the middle is thicker rather than creamy.
INGREDIENTS
6 hard-cooked eggs
2 tablespoons mayonnaise
1 teaspoon sugar
1 teaspoon white vinegar
1 teaspoon prepared mustard
1/2 teaspoon salt
Paprika
DIRECTIONS
Slice eggs in half lengthwise; remove yolks and set whites aside. In a small bowl, mash yolks with a fork. Add the mayonnaise, sugar, vinegar, mustard and salt; mix well. Stuff or pipe into egg whites. Sprinkle with paprika. Refrigerate until serving.
Tonight, I'm going to attempt to bake bran muffins. :) The unfortunate part is that I have to chill the dough for 3 or more hours! I don't like to wait...:)